sift.com
Description
Summary
This domain is used for 'Tracking' your private life and HAVE to be
blocked as..

sift

.

com

   

CNAME

 

.

 

;

 

SpyWare

,

 

Tracking




*.

sift

.

com

   

CNAME

 

.

 

;

 

SpyWare

,

 

Tracking



... *because*:

Relevant logs and/or screenshots
siftscience.com redirects to sift.com and according to there own claims

Digital Trust & Safety powers Dynamic Friction, so you can see every step of the user journey and serve up the right experiences at the right time. Connect the dots with Digital Trust & Safety and Dynamic Friction.

We really needs to get these trackers blocked at once

See also initial post about this

Screenshots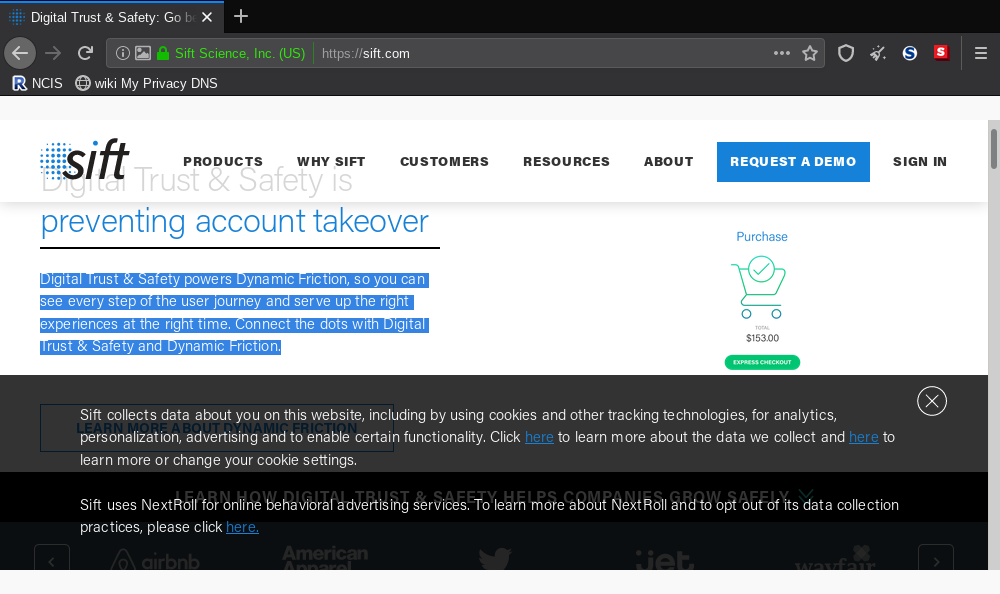 All Submissions:
[X] Have you followed the guidelines in our Contributing document?
[X] Have you checked to ensure there aren't other open Issues for the same update/change?
[X] Added ScreenDump for prove of False Positive
[X] Have you added an explanation of what your submission do and why
you'd like us to include them??

Testing face
[X] Checked the internet for verification?
[X] Have you successfully ran tests with your changes locally?
Todo:
[X] RPZ Server (Team members)
[X] Added to Source file
Change History
(1)
Resolution:
→

fixed

Status:

new

→

closed